New Zealand is located in the southern hemisphere, so January and February are the warmest months, autumn is from March to May, winter is from July to August, and spring is from September to November. New Zealand has a mild climate, warm and humid in winter, cool and dry in summer. The climate varies greatly from region to region - the northernmost is subtropical, and the south often has a cold wind blowing directly from Antarctica.
Outdoor lifestyle: Mild climate means outdoor recreation is an important part of New Zealand's life. Water sports, hiking or wayfaring are very popular. In summer, people often wear a long-sleeved shirt, some sunscreen cream, and a hat to avoid the carcinogenic sunburn. It's vulnerable to sunburn, even in cool or cloudy weather, because New Zealand's sunlight has strong ultraviolet rays.
Dressing: New Zealand's lifestyle is casual, so in most cases, the dressing is also casual. Some primary schools and most secondary schools require students to wear school uniforms. In institution of higher learning, you can wear whatever you want. Most families wear shoes in the room, but some families prefer to put their shoes outside the house.
Needing in winter
Warm shoes and socks on rainy days; Woolen sweater or other warm coat; Windproof jacket or waterproof coat.
Needing in summer
Sunbonnet or hat; Long-sleeved shirt or loose blouse made of cool fabric; Shoes suitable for walking on beach or in jungle.
National costume
You may be willing to wear your national costume at school or party organized by local community. Bringing your country's unique cuisine is also a good idea.
Climate in New Zealand
Most areas of New Zealand have a temperate climate. While the far north has subtropical weather during summer, and inland alpine areas of the South Island can be as cold as -10°C (14°F) in winter, most of the country lies close to the coast, which means mild temperatures, abundant rainfall, and long sunshine time. The average New Zealand temperature decreases as you travel south. January and February are the warmest months, and July is the coldest month of the year. The average maximum temperature in summer is about 20-30 ℃ and the temperature in winter is about 10-15 ℃.You can inquiry the weather condition through the
Met Service website
. Because New Zealand is located in the southern hemisphere, its seasons are contrary to that of the northern hemisphere.
Spring in New Zealand Average daytime temperature is 16 - 19˚C (61 - 66˚F).

New Zealand lasts from September to November. in New Zealand, spring is thriving. Colorful flowers, wildlife cubs, and the "waterfall season" make spring an ideal time to visit.
Summer in New Zealand Average daytime temperature is 20 - 25˚C (68 - 77˚F).

Opposite to that of the northern hemisphere, New Zealand's balmy summer season runs from December to February. In summer, many beaches and lakes in New Zealand become perfect summer resorts. The key words of summer activities are sunshine, sea and beach. New Zealand's summer climate is usually mild and sometimes very hot. It is worth noting that New Zealand's sun can be harsher than in other parts of the world. If you're outside exploring, wearing sunscreen with a high SPF is highly recommended to avoid sunburn. Summer in New Zealand is hot without being muggy. Sunshine hours are high, and rain is not overly common in most places. Being an island nation, you're never far from the sea in New Zealand. Make the most of long, hot summer days with beach picnics, kayaking, snorkelling, sailing or swimming – the list is endless! 
Autumn in New Zealand Average daytime temperature is 17 - 21˚C (62 - 70˚F).

Autumn is the most mild time of whole year in New Zealand. The sun is shining, the days are long, the autumn sky is clear and the air is crisp, and you can hike, cycle or boat accompanied by golden leaves…… The temperature in autumn is slightly cooler than that in summer, but it has good weather with clear skies. Suitable clothes include thin trousers or shorts, T-shirts or long sleeve blouses. The temperature drops down at nights in autumn, and warm sweaters are essential clothing. Long, sunny days tend to linger long into New Zealand's autumn, and you'll hardly notice summer has 'officially' ended. It begins to get chilly around mid-April in New Zealand.
Winter in New Zealand Average daytime temperature is 12 - 16˚C (53 - 61˚F).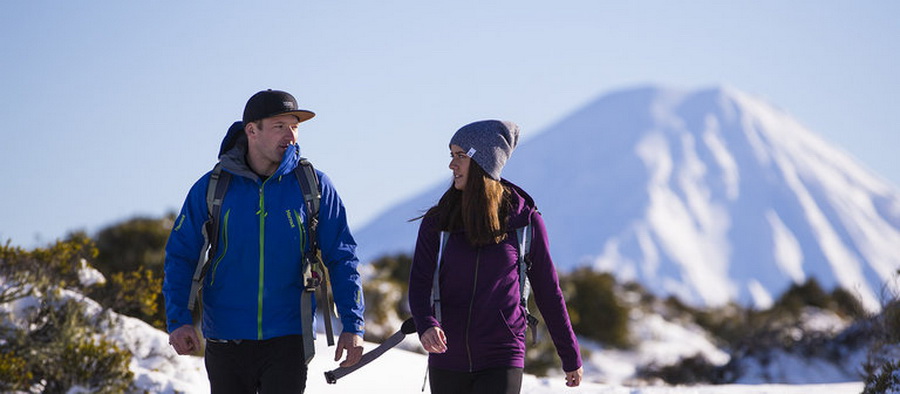 New Zealand's winter lasts from June to August, with different winter scenes in different places. Most of the areas in New Zealand are colder in winter, with snow in the south and rain in the north. In most areas, jeans, long-sleeved blouses and coats are essential clothing. If you go into hot mountain areas, wearing gloves and thick sweater is a wise choice. In particular, the best coat is windproof and rainproof with a hat, because daily temperature difference in New Zealand's winter and spring is big, and the weather is unpredictable. It is sunny and rains a few minutes later. It doesn't snow in winter in Auckland. Away from home, leisure and sports shoes (rainproof) are most suitable. In some areas, winter snowfalls cover towering mountains with white snow, and clear, pleasant weather awakens your senses. You can ski at ski resorts, visit wine farms, or go to many winter festival scenes.