Arriving in New Zealand

Make sure you've got the right visa and documents when you arrive in NZ. Also check you haven't got anything that you shouldn't bring into NZ.
Visas and passports
If you're coming to NZ on a holiday you might not need to apply for a visa before you arrive. If you plan to work or study in NZ, even for a short time, you might need a visa.
Find out if you need a visitor's visa
Apply for a visa to work in NZ
When you need a student visa
Arriving in New Zealand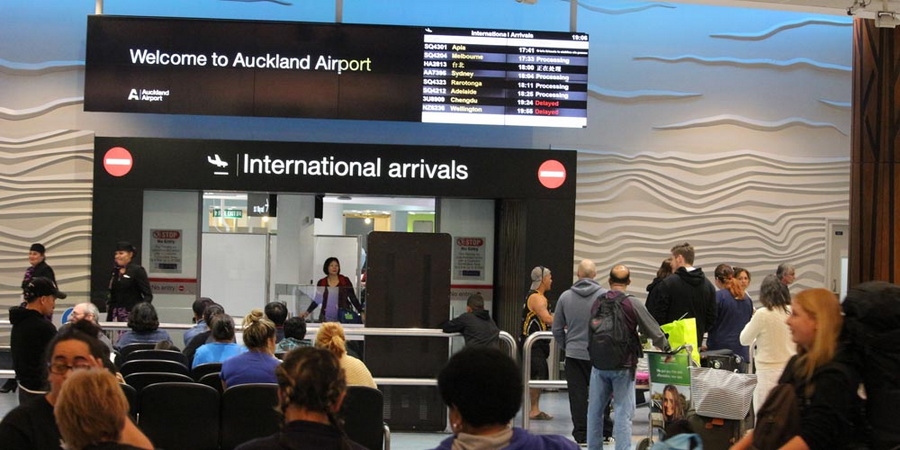 When you arrive in New Zealand, you'll need to apply for entry permission. You can do this by giving an immigration officer:
• your completed arrival card (this will be given to you on your way to New Zealand)
• your passport or travel document
• if you're not travelling visa waiver, your visa (you can provide a print-out if you have an eVisa)
• your travel ticket out of New Zealand to a country you have the right to enter (unless your visa label or letter says 'Return/onward travel not required' or 'The holder of this visa is sponsored').
• You can also be asked for evidence that your travel ticket is to a country you have the right to enter.
Normally, applying for entry permission is quick, however, immigration officers may ask you some extra questions before granting you entry permission. You must answer these questions truthfully. Depending on the passport you are travelling on, you may be able to use New Zealand's electronic immigration gates, which are called 'SmartGate', to apply for entry permission. Other border agencies such as the New Zealand Customs Service and Ministry for Primary Industries (Biosecurity) also have important requirements for entering New Zealand. You need to make sure you meet these requirements too – you could be refused entry if you don't.
Declarations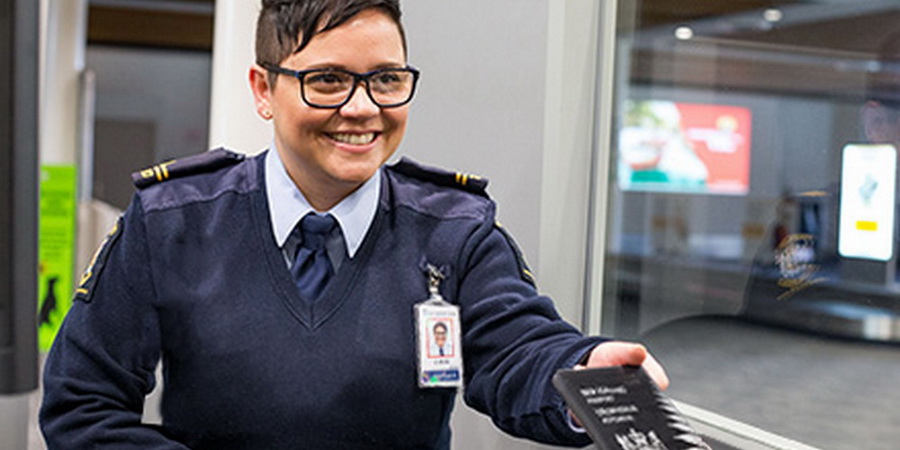 Before you disembark from your ship or plane you will be given a New Zealand Passenger Arrival Card (PDF 35 KB) to fill in. Sample: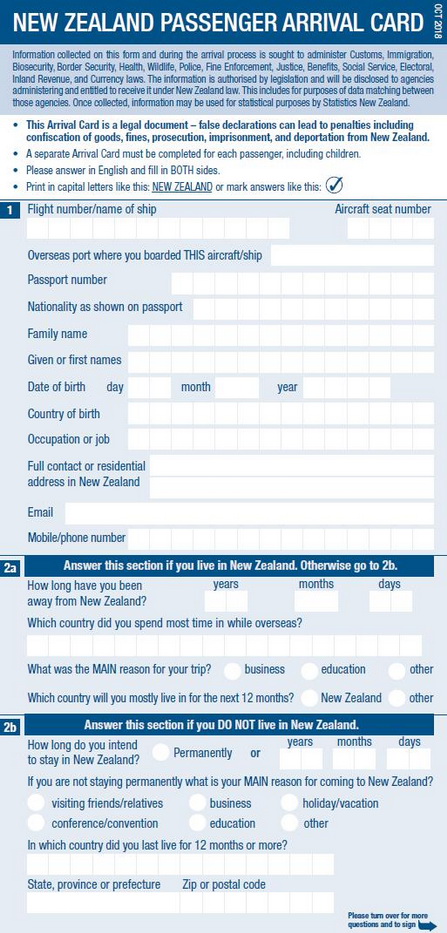 This Passenger Arrival Card must be completed before you get to passport control. On it you will declare what you are – or are not – bringing into the country. You do not have to declare your clothing, footwear, jewellery, and toiletries – these are regarded as "personal effects" if they are intended solely for your own use. Please have any purchase receipts available. You must tick 'Yes' on the card if you are bringing into New Zealand:
▪ medicine – over 3 months' supply, or medicine not prescribed to you
▪ restricted or prohibited goods, for example, weapons, indecent publications, endangered plants or wildlife, illegal or controlled drugs
▪ alcohol – more than 3 bottles of spirits (not exceeding 1.125 litres each) and 4.5 litres of wine or beer
▪ tobacco – more than 50 cigarettes or 50 grams of tobacco products (including a mixture of cigarettes and other tobacco products)
▪ goods obtained overseas and/or purchased duty-free in NZ with a total value of more than NZ$700 (including gifts)
▪ goods carried for business or commercial use
▪ goods carried on behalf of another person
▪ cash – NZ$10,000 or more (or foreign equivalent), including travellers cheques, bank drafts, money orders, etc.
Your Passenger Arrival Card must be completed in English.
Questioning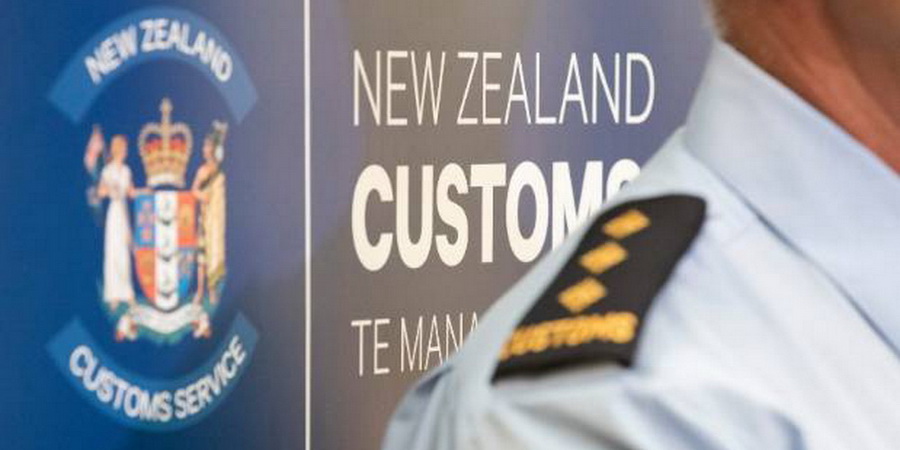 You must answer questions about the goods in your possession, and produce your identity documents. It is an offence not to do so. You may get questioned because officer wants to verify you are a legitimate traveller. A Customs officer might ask you a range of questions to verify who you are, why you are travelling, and what you are carrying with you. You can ask our officer to explain why they are asking a particular question, if you need that clarified. You also can request a translator or interpreter if that will help.
Screening and baggage search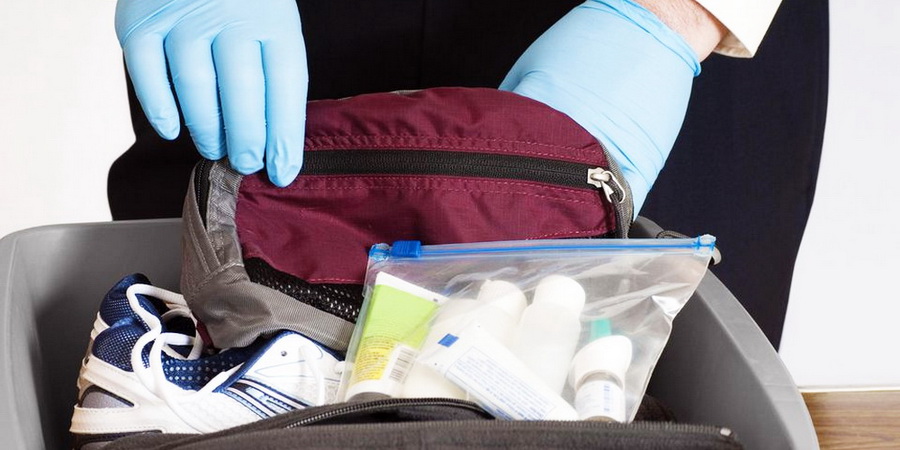 After clearing passport control and collecting your baggage, head straight for the exit marked on your arrival card or your eGate ticket.
Screening
If you have nothing to declare, you can carry straight on through – although you may be stopped at the discretion of a Customs or Ministry for Primary Industries (MPI) officer.
If you do have goods to declare – or there is something you are unsure about – then you should present yourself voluntarily to Customs.
If you have organic goods to declare which may be agriculture risks, or if you are unsure about it, you should go to an MPI officer. For further information on what items are prohibited and restricted and what youi must declare or dispose – visit the MPI Biosecurity website.
Some items are prohibited and cannot be imported into New Zealand, and some require approval to import. See Prohibited and restricted items.
You may not leave the arrival hall until you have completed all Immigration, Customs and MPI Biosecurity formalities that may be required of you.
Baggage search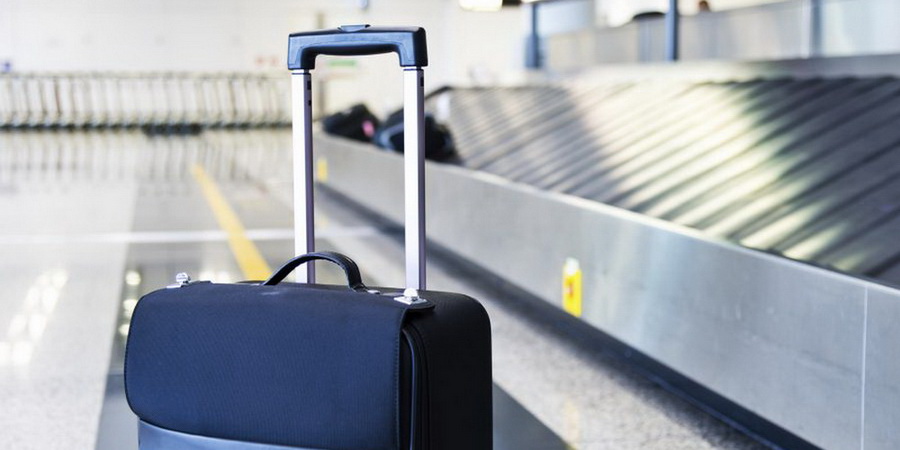 Customs officers and MPI Biosecurity officers may search the baggage of any traveller. You must make any item in your possession or under your control available for examination.
This includes:
▪ wallets, handbags, money belts, and the contents of your pockets
▪ any items being carried by a child who is travelling with you.
During this process, the contents of your bags may be removed and examined. Sometimes an officer may use a detector dog or imaging equipment to assist with the examination, or do a drug swab test. Please note imaging equipment will not damage the contents of your bag, such as unexposed film. The only time imaging equipment might damage film or other material is after repeated exposure. It is always better to declare items you are unsure about, rather than running the risk of getting caught with something which is prohibited. Let officer know if there are items of special personal significance that need to be handled carefully. If you have concerns about your privacy, please raise this with the officer.
Personal search
An officer may conduct a personal search if they suspect a person is concealing unlawful goods, or goods on which revenue must be paid, on or about their body. The officer will explain your rights if this type of search is needed. An officer of your gender will carry out this search in a private room, and another officer will be present as a witness.
What you can't bring into NZ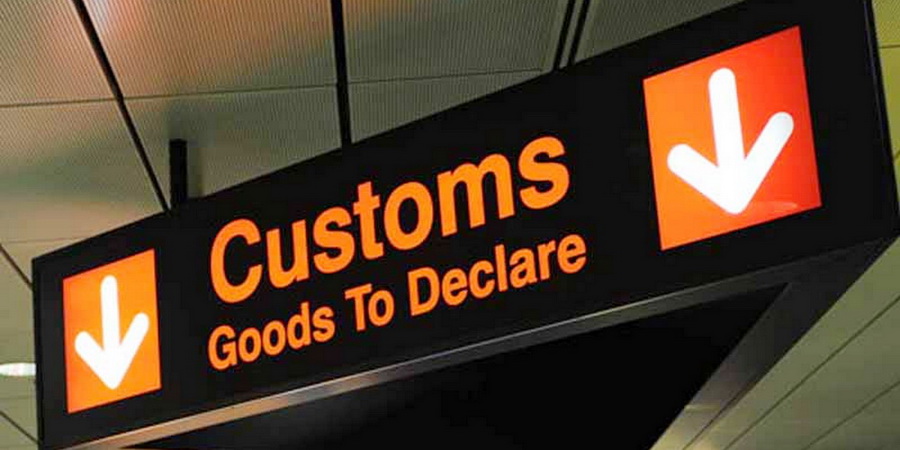 New Zealand has strict biosecurity procedures at airports and ports to prevent the introduction of unwanted pests and diseases. MPI's role is to help people arriving in New Zealand to meet these requirements. In New Zealand, the law is very clear. If you are carrying goods that could be a biosecurity risk, including airline food, you must declare them or dispose of them in the amnesty bins at our borders – otherwise don't bring them. It's important to follow New Zealand law. That means you must declare or dispose of risk goods at our international borders. You might have goods with you that could be carrying pests and diseases. These pests and diseases could cause millions of dollars in damage to our country's environment and economy.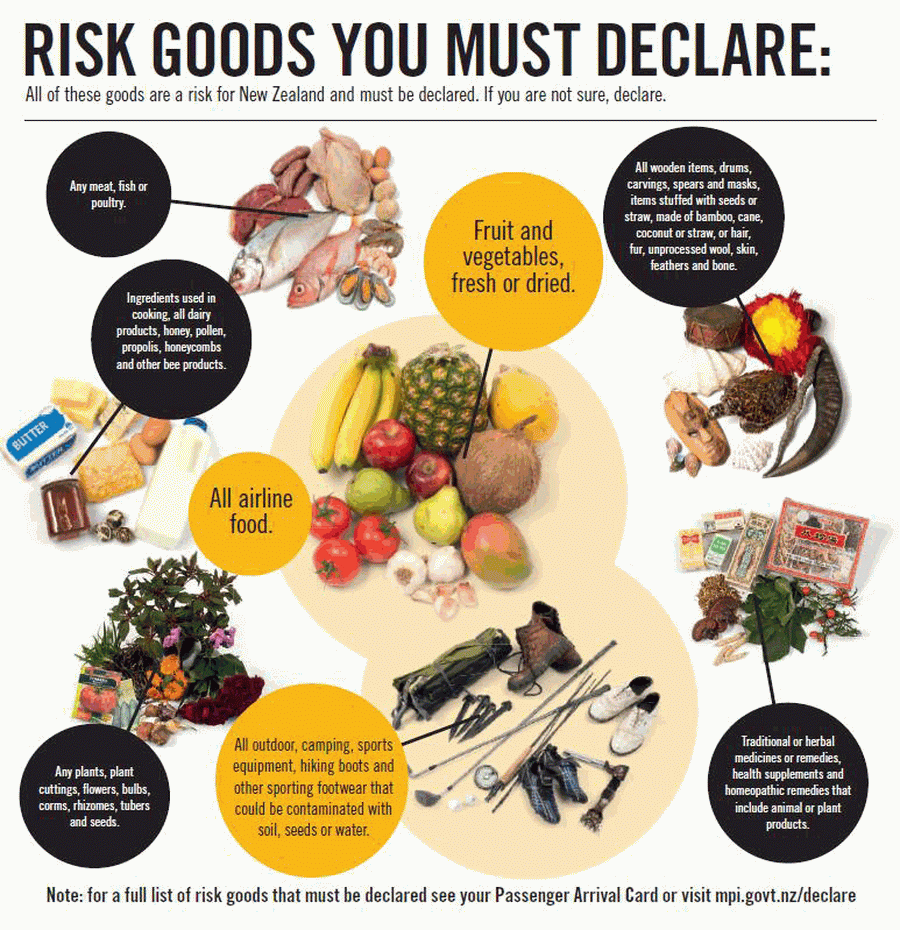 Every traveller to New Zealand receives a Passenger Arrival Card. Read it carefully and fill it out, declaring any and all risk goods. After inspection, most goods will be returned to you. However, some may require treatment and you may have to pay for this service. Any goods that cannot be brought in will be destroyed immediately. You can, at your own expense, have the item sent back to the country of origin. If you are not sure if you are carrying risk goods, declare.
DISPOSE
Amnesty bins are provided at our airports and other borders for you to dispose of risk goods before you go through the biosecurity process.
IF YOU ARE NOT SURE, LEAVE IT BEHIND OR DECLARE
If you want a quick trip through our airports and other borders, don't bring risk goods with you – and if you are not sure if you are carrying risk goods, declare.
IF YOU DON'T FOLLOW THE LAW
It is New Zealand law to declare all risk goods you are carrying. If you fail to declare risk goods on your Passenger Arrival Card you could face a fine or be prosecuted. Prosecution may lead to a fine of up to $100,000 or imprisonment.
Communication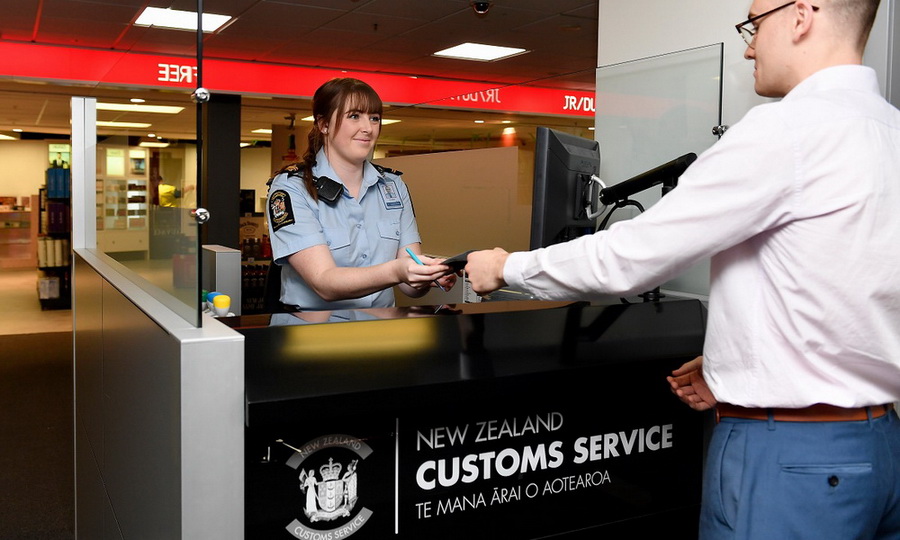 Photography, filming, recording or use of mobile phones is not permitted in the search area for security and privacy reasons. If you need to contact someone who is waiting for you, please tell the officer and they will consider this. All our officers are required to protect your privacy. They will not answer questions about you or your whereabouts if your friends or families approach them directly in the waiting area, unless you have given us approval at the time.
Amnesty bins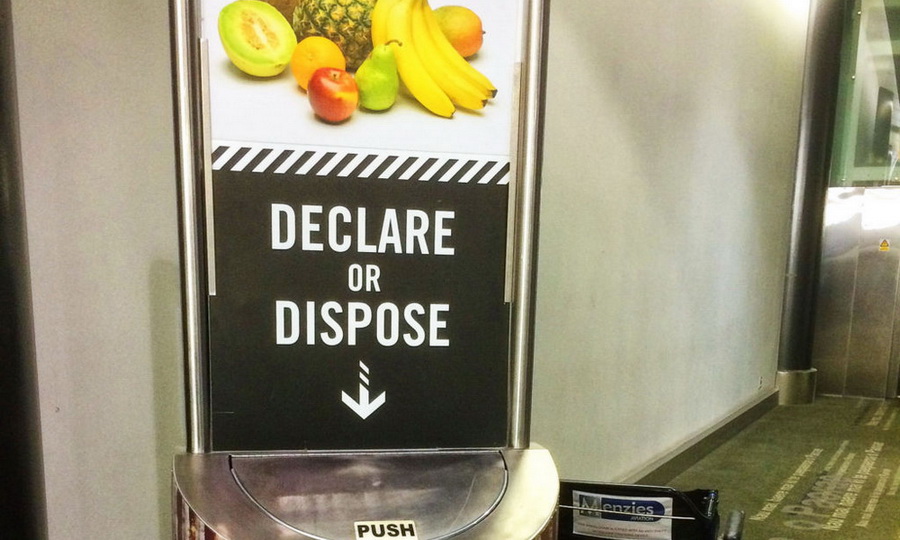 If you know you have something prohibited in your possession, or are in doubt about it, you have the option of getting rid of it before entering the Customs and Biosecurity areas. You will find Amnesty Bins for this purpose located at all NZ's international airports. They are there for the safe disposal of risk goods – such as the half eaten orange in your handbag.
Things to be wary of bringing in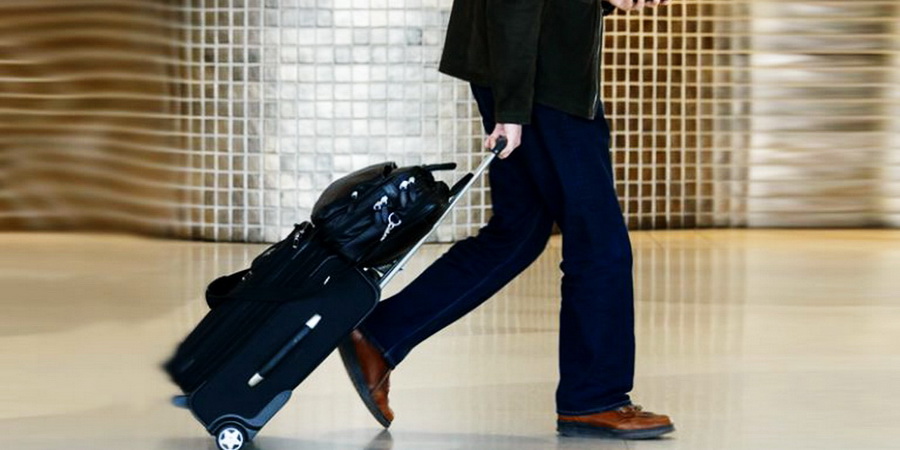 Restricted items you must declare include feathers, bones, tusks, furs, skins, hunting trophies, stuffed animals and reptiles, unprocessed wool and animal hair, items made from animal skin (e.g. crocodile handbags) and equipment used on animals including riding equipment. You will not be allowed to bring into NZ coral, clam, turtle and tortoise shells, products of endangered species or ivory in any form, unless you have a CITES certificate to allow you to do so.
Alcohol and tobacco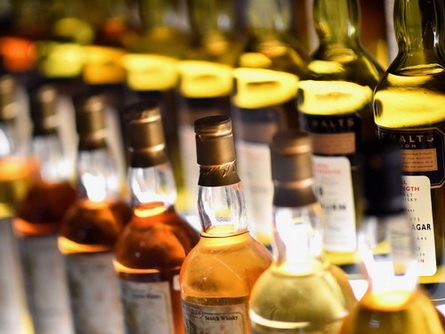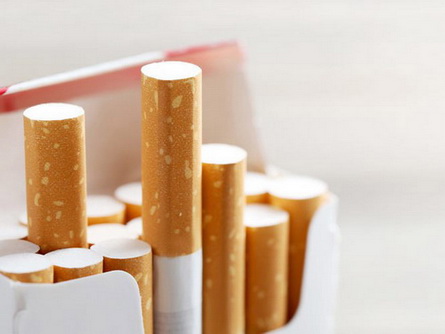 You can bring alcohol and tobacco with you into NZ if you're 17 or older. You can bring in more tobacco and alcohol than the duty-free allowance, as long as you pay the duty fees and it's for personal use. Take care to only bring as much as you're willing to pay duty for.
Alcohol duty-free allowance
You're allowed to bring in some alcohol duty-free:
• 4.5 litres of wine or beer, and
• 3 bottles of spirits or liqueur — each bottle can hold up to 1.125 litres.
If you bring more than 3 bottles of spirits or liqueur, you'll have to pay a fee, even if it's less than 3.375 litres (the total amount you can bring in 3 bottles). For example, if you bring in 5 bottles of spirits that hold 500 millilitres each, or 2.5 litres in total, you'll have to pay a fee.
Tobacco duty-free allowance
You can bring in one of the following, duty-free:
• 50 cigarettes
• 50 grams of tobacco products
• 50 grams of cigars, or
• a mixture of all 3, as long as it's not more than 50 grams.
If you bring in a lot of tobacco or alcohol you'll have to pay the duty fees, and Customs staff will ask if you're planning to sell it. There are rules and fees if you're importing tobacco or alcohol for commercial use. The amount of duty you pay depends on the kind of alcohol or tobacco you're bringing in.
Prescription medicines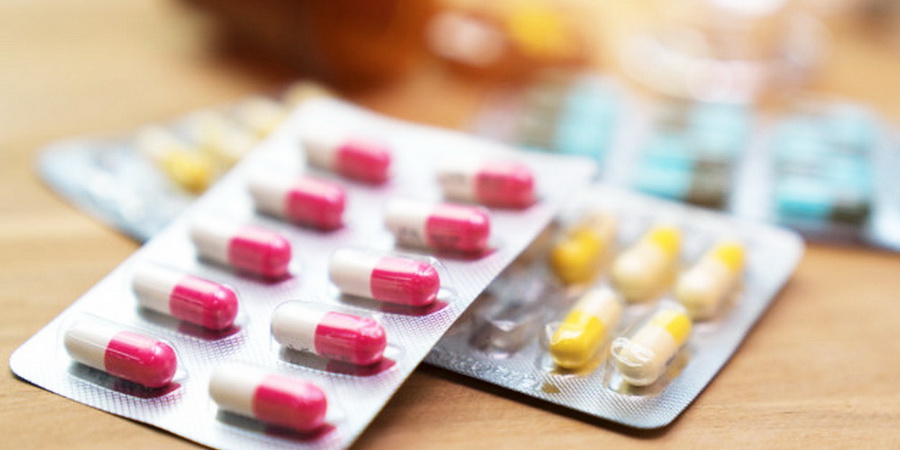 Declare prescription medicines you have with you. You'll need to have:
• a copy of the medicine's prescription or a letter from your doctor stating that you're being treated with the medicine
• the medicine in its original pharmacy container, with your name on the label and strength and dosage details shown
• no more than 3 months supply (except for oral contraceptives, where a 6 month supply is OK).
You don't need to declare medicine that's not on prescription.
Cash
If you're bringing in more than NZ$10,000 (or the equivalent in a foreign currency), you have to declare it.
Goods
If you're bringing in more than NZ$700 worth of goods (not including your clothes, jewellery and toiletries), you'll need to declare it as you may have to pay duty fees or GST.
Bringing pets into New Zealand
You can bring your cat or dog here, but they must meet specific health standards. These change depending on the country your pet is coming from.
https://www.govt.nz/browse/immigration-and-visas/bringing-things-into-nz/bringing-pets-into-new-zealand/