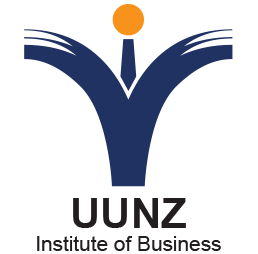 UUNZ Institute of Business

SCHOOL INTRODUCTION
Universal United New Zealand (UUNZ) was founded in the year 2002, and is one of the fastest growing Business Schools in New Zealand. Based in the heart of Auckland city, it offers internationally recognised programmes in conjunction with the University of Southern Queensland, Australia. UUNZ initially offered English language programmes. It has gradually progressed to offering a wide range of undergraduate and postgraduate degrees. UUNZ is also the first PTE in New Zealand to collaborate with an overseas University under the PPP (Public-Private Partnership) model.
SCHOOL FEATURES
UUNZ is the sole Australian course provider in NZ with one of the top universities in Australia in offering Master Level Programs—the University of Southern Queensland (USQ).
Graduates obtain a dual qualification upon completion of study (UUNZ and USQ). The USQ qualification is equivalent to a local Australian Qualification.
Both UUNZ and USQ qualifications are recognized universally and UUNZ is also one of the few PTEs in New Zealand recognized by the Ministry of Education of New Zealand.
UUNZ is providing an Australian MBA rated Top5—4 stars according to recent rankings. This is the best pathway to equip you for the skills required in a future managerial position.
It has a 94% employment rate for graduates (figure obtained from recent survey). You can find many of UUNZ graduate working in various job positions across different industries in NZ.
INTRODUCTION OF LANGUAGE COURSES
Postgraduate
• Master of Business Administration: This programme will give you the edge in a competitive work environment by helping you to understand and make critical decisions about change. You will learn about sustainability across global markets and contexts and contemporary business management.
• Master of Business Administration (International Business): This is an advanced cross disciplinary academic programme that aims to build and extend business related skills in two specialised areas. It provides students with the ability to match their specialisations with their career goals.
• Master of Business (Information Systems): It is an advanced academic program for graduates of any discipline or for students with extensive relevant business experience.The program aims to develop generic business skills and specialist knowledge and skills in the field of Information Systems.
• Postgraduate Diploma of Business: The programme aims at enabling students to acquire a body of specialised knowledge and skills across a range of business disciplines and contexts to meet their specific professional workplace needs or as a pathway for further learning.
• Postgraduate Certificate in Business: This programme is designed to help you advance in your workplace or be the first step on the road to a master's degree, so no matter what your end goal is it can help you achieve it.
• Postgraduate Certificate in Business (Information Systems): This programme is designed to help you advance in your workplace or be the first step on the road to a master's degree.Whether you have studied business before, have relevant professional work experience without studying, or have studied an un-related area, this programme can expand your career prospects.
Undergraduate
• Diploma of Business Administration: This programme is aimed at equipping students with a broad understanding of how organisations operate in different environmental contexts, private, and public. Students develop relevant conceptual, analytical, functional, and operational capabilities to equip them to confidently address a range of organisational and managerial challenges in contemporary organisations.
• Bachelor of Information Technology: You will gain a broad range of skills with the aim of helping you become a versatile and adaptable employee, equally adept at addressing both technical and business issues. You will gain significant analysis and design experience in the business context, while also developing an understanding of the broader architecture of information systems and the principles of modern software engineering practice. You will undertake detailed study of the .NET framework and Java development environments.
• Graduate Diploma in Business Information Systems: Graduates will be able to demonstrate specific knowledge and skills in information systems which are relevant to their disciplines, become better problem solvers and innovative thinkers, who are able to learn new skills independently.
Diploma
• New Zealand Diploma in Business: The programme focuses on producing graduates, who are equipped to identify, describe, analyse and resolve problems in a complex business environment. The objective of the programme is to familiarise the student with the knowledge of major business disciplines and enhance their skills to confront the challenges faced in the modern business world.
English
• General English: The course is designed for students who want to improve their English levels in all areas of speaking, listening, reading, and writing. It offers General English classes at all levels from elementary to advanced. Students at General English class learn English in a relaxing but demanding environment with personal learning plans supervised by teachers.
• IELTS Preparation: IELTS preparation prepares students for IELTS examination while enhances their academic English skills. Experienced teachers help students get familiar with IELTS topics, practice exam skills and meanwhile improve their English ability.
• NZCEL Level 4 & 5: The programmes were designed to prepare students for their New Zealand tertiary study. NZCEL courses are under NZQA guidance and supervision. With successful completion of the course, students will gain a NZ national qualification in English language that recognised by both New Zealand employers and tertiary providers for further study and employment. Graduates of NZCEL Level 4 will be considered at an IELTS equivalent of 6.0 while NZCEL Level 5 of 6.5.
Vocational Studies
• This course provides a basic level introduction to wine and is suitable for those starting a wine career or pursuing an interest in wine.
ADDRESS
UUNZ Tower 76 - 78 Symonds Street (cnr Symonds St&Whitaker Place), Auckland CBD, New Zealand