New Zealand Management Academies(NZMA)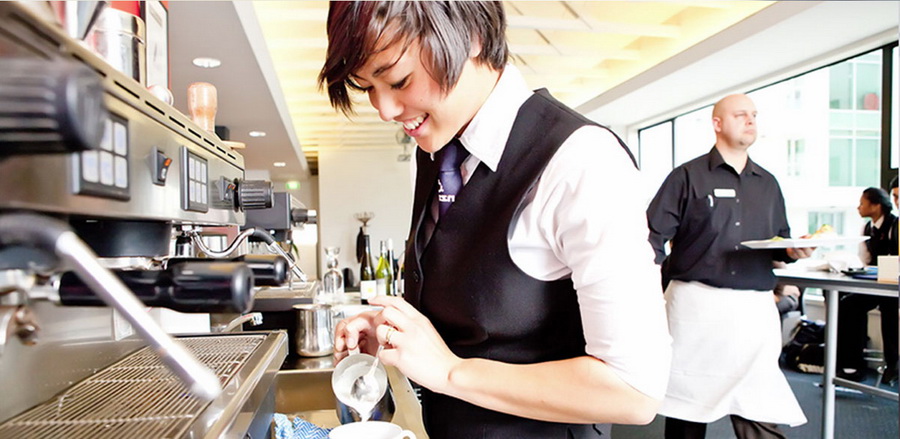 SCHOOL INTRODUCTION
NZMA (New Zealand Management Academies), which has been in operation since 1985, is part of New Education Group, New Zealand's leading independent provider of vocational training and higher learning. NZMA delivers top quality training in today's fastest-growing fields – from hospitality and cookery, to early childhood and trades. NZMA courses teach students real skills for today's professions, so students can get out into the workplace fast, and start building their career. Classes are fun, practical and relevant, and students will graduate with an industry-recognised qualification that will take their places. NZMA has ten thriving campuses – six in Auckland (Sylvia Park, Auckland City, Manukau and Otahuhu), one in Hamilton, Wellington, Rotorua and Christchurch.
SCHOOL ADVANTAGES
Great facilities
Hospitality students learn in cafés, bars and barista training areas in NZMA, with opportunities for work experience and internships; cookery students learn in industry-standard kitchens of NZMA; business students work with state-of-the-art technology; and electrical engineering students wire a sleep-out.
Great environment
In NZMA, support staff help students with non-academic issues; and students can meet heaps of new friends. The campuses are close to public transport routes.
Awesome courses
All industries NZMA trains for have high demand for workers. Tutors in NZMA are from industry. NZMA launches regular consultation with employers to keep programmes up-to-date.
NZMA offers fun field trips, and also employment support, so students can work while studying.
The courses are NZQA-accredited. NZMA proves you're serious with a formal qualification.
NZMA provides qualifications that employers demand, and approved pathways to universities in New Zealand and overseas.
Career help
NZMA offers dedicated careers team, helps students find employment in their programme area, and provides employment support even after they graduate.
COURSE INTRODUCTION
HOSPITALITY
• Certificate in Hospitality (Level 3)
You'll master the fine art of coffee and cocktail making, learn about restaurant service and food safety and pick up a host of other practical hospitality skills. You'll come away with a Level 3 certificate and a Certificate of Achievement in Basic Food Safety. Studying on this programme will also give your English and Maths skills a boost.
• Certificate in Hospitality (Restaurant Service) (Level 4)
Liquor legislation, wine evaluation, food and beverage matching and advanced food safety. It's all covered in NZMA's Level 4 New Zealand Certificate in Food and Beverage Service. You'll even gain your LCQ (Liquor License Qualification), which will give you the leading edge when you are job hunting.
• New Zealand Diploma in Hospitality Management (Level 5)
Develop the practical skills and industry knowledge you need to nail a supervisory, team leader or junior management role in hospitality. If you have your sights set on hospitality management and want to fast-track your career, this is the ideal programme.
• Diploma Programme in Applied Hospitality Management (Level 6)
Become a competent employee in supervisory, trainee and junior management roles by developing industry relevant knowledge and skills. This programme is ideal if you are targeting a career in hospitality management or if you already have front-line hospitality service experience but are keen to take your career to the next level and progress into management.
• Diploma in Tourism and Hotel Management (Level 7)
This course can be taught as an independent diploma course or as a bachelor's degree course at the most prestigious hotel management school in Switzerland (HTMi) after completion of NZMA courses of Level 5-7.
COOKERY
• Certificate in Cookery (Level 4)
This intermediate-level programme really helps to build on your cookery skill set. You'll learn about a wide range of cookery techniques and disciplines, and gain confidence working in a commercial kitchen environment. At NZMA you learn by doing, so you'll spend 80% of your time in the kitchen putting your skills into practice.
• Diploma Programme in Professional Cookery (Level 5)
This programme produces graduates who are proficient in advanced cookery skills as well as allied administrative and kitchen management skills. As part of your programme, you are required to apply all the skills you have developed to plan and implement a live dinner service.
PHARMACY
• New Zealand Certificate in Pharmacy Technician (Level 5)
The Pharmacy industry is dynamic and there are many employment opportunities out there for qualified Pharmacy Technicians. This practical programme teaches you all of the necessary skills and pharmaceutical knowledge to start your career. It includes classroom and practical learning, along with extensive work placement in the pharmacy industry.
BUSINESS
• Diploma in Business (Leadership and Management) (Level 5)
You will develop both general and specialised business knowledge and skills that can be applied in a range of operational roles. Hone your core technical, cognitive, business and people skills and then widen your expertise with a range of targeted leadership and management papers.
• Diploma in Business (Leadership and Management) (Level 6)
If you are targeting a career in leadership and management this is the qualification you need! Develop the knowledge and skills you need for strategic roles in a range of business environments, and build your intellectual capabilities in problem solving, decision making, project management and change management.
ADDRESS
The courses for international students of NZMA are taught in these 3 campuses.
Auckland Symonds Street Campus: 100 Symonds Street, Auckland Central 1010
Auckland Sylvia Park Campus: 56 – 60 Carbine Road, Mt Wellington, Auckland 1060
Waikato Campus: Level 2, Tower Building Centre Place (off Ward Street), Hamilton 3204