Mount Roskill Grammar School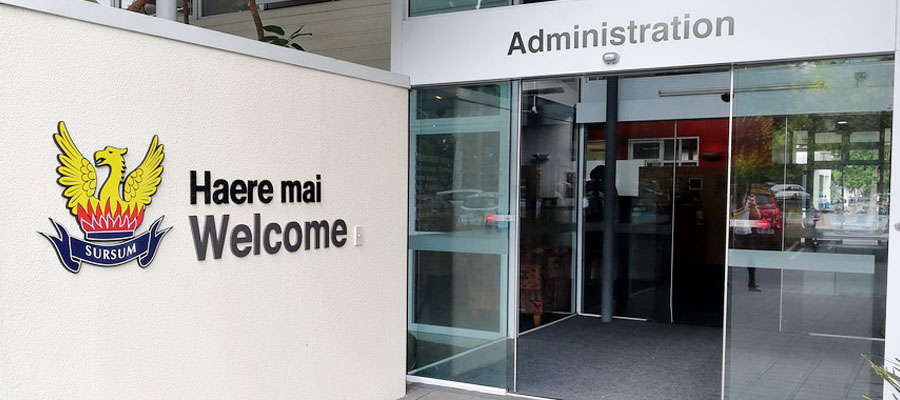 School Introduction
At MRGS an excellent education, great facilities, an extensive range of subjects and a fantastic variety of co-curricular, leadership and sporting opportunities are the norm for every student. More than this, MRGS offers a warm, caring community where each individual is valued for who they are and the potential they have.
MRGS encourages success and a love of learning – at the same time it acknowledges that the community and a sense of belonging are also an important part of school life.
When students join Mount Roskill Grammar School they become part of a close knit family that can trace its history back almost 65 years. The vision for its students is for them to become successful and powerful learners; encourages belonging and aspiration. The school's commitment is to each student's wellbeing and success.
The core values of respect, excellence and responsibility guide expectations for the school community. It expects each student to show respect for others, to value and celebrate diversity, to dev and participate in all areas of school life. A wide variety of co-curricular activities provide opportunities for students to develop qualities of character that enable excellence in learning and participation as active citizens.
Students leave Mount Roskill Grammar School they do so with the personal qualities and capabilities that enable them to continue to be successful learners for the rest of their life them to their own heights.
School Curriculum
ENHANCED LEARNING PROGRAMME
Several Year 9 classes follow an enhanced learning programme in their core subjects. Academies are also offered. In Year 10 students are accelerated in Mathematics and Science according to their high level of academic ability, their competence in key learning capabilities and their commitment to achievement. These enhanced classes are exposed to a wide range of learning experiences in enriched contexts. The learning of these students in their junior years offers them the opportunity of extending their range of subjects in the senior school.
MENTORING
● Every staff member supports its mentoring programme which:
● helps senior students track their progress and achievement
● develops positive learning relationships between teachers, students and their families
● guides students to set and achieve their learning goals
● assists students to plan for their future
● enables students to have agency in their learning. Teachers, as mentors, meet with their students, to ensure they have the best opportunity to achieve positive learning outcomes.
LEARNING EXTENSION
The Learning Extension Department provides a range of support for students at MRGS. They deliver the Literacy Programme to targeted junior classes to accelerate reading comprehension, and provide in-class support to assist students' access to the curriculum. The department provides academic and practical support to students with moderate learning needs. They also deliver a range of programmes to those students at risk of not achieving to their potential.
HOMEWORK CENTRES
Homework consolidates classroom learning and encourages students to plan and take responsibility for their learning. Students are encouraged it suits their learning needs. The Library for all students and a number of Homework Centres operate in.
MUSIC TUITION
Music Tuition is available across a wide range of orchestral and band instruments as well as voice. String orchestra, concert, rock, brass and jazz bands in addition to chamber groups and vocal groups all rehearse and perform regularly; with the opportunity to compete at local and national levels.
School Facilities and Location
At Mount Roskill Grammar School they understand that great schools continue to grow and evolve. Over the last ten years they have built new classroom blocks, updated specialist areas, refurbished corridors and created a more pleasant learning environment for students. This section highlights some of their facilities for student learning.
The School is situated on an extensive and unique campus with two other schools (Mt Roskill Primary School and Mt Roskill Intermediate School) and adjoins Keith Hay Park. Winstone Park, Akarana Golf Course, Three Kings Reserve and Mt Roskill (Puketapapa) are close-by. The campus is also on major bus routes.
Frost Road, Mount Roskill, Auckland, New Zealand
Official website: https://www.mrgs.school.nz/