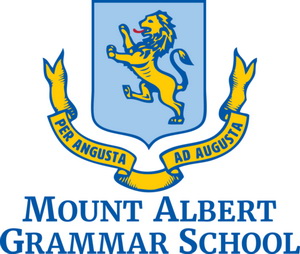 Mount Albert Grammar School

School Introduction
Mount Albert Grammar School is a state, co-educational secondary school situated in central suburban Auckland.
Its current roll of about 3000 students come mainly from within the school's zone, with a small number from wider Auckland accepted through the ballot process. Due to increasing demand for places at the school from within its zone, the number of ballot places is diminishing each year. The ratio of boys and girls is almost 50/50.
Since Mount Albert Grammar's foundation in 1922, the school has established a strong academic tradition. Its NCEA results are consistently strong, and the number of Scholarships attained by their elite academic students placed us among the top six schools in New Zealand.
It is widely considered to also be among the top sporting schools in the country, with a history of winning numerous Auckland and New Zealand Championship titles. It offers a wide range of sports at all levels, from social to premier grades, for both boys and girls. All students are encouraged to take part in at least one sport, not only for the physical benefits but for the social and character-building aspects that sport provides for young people. At MAGS, sport is considered intrinsic in its overall culture of developing well-rounded young men and women who aspire to excellence in everything they do, and seek to serve others in the community. They believe their sporting culture feeds directly into their academic success.
School Curriculum
The National Certificate of Educational Achievement (NCEA) is the official New Zealand qualification system for secondary students. Students typically sit NCEA Level 1 in Year 11, NCEA Level 2 in Year 12 and NCEA Level 3 in Year 13.
At Mount Albert Grammar School, Year 9 and 10 classes are single sex and streamed according to academic ability. This is because, at this age, boys and girls have different learning needs that are best addressed in single sex classes. Option classes in the Junior school, however, are co-educational as this allows for a more comprehensive choice of Option subjects.
In Year 11, classes are generally co-educational, and in Years 12 and 13 all classes are co-educational. This is a unique arrangement and designed to get the best out of both settings at the time when it is most appropriate in students' development.
Mount Albert Grammar offers an English Language Programme to all International students who may require it to help them integrate into mainstream classes and the life of the school. There are no pre-requisite requirements to enter the English Language courses.
School Achievement
MAGS among top schools in NZ after results in NCEA and Scholarship
Mount Albert Grammar School is one of the top schools in New Zealand after students attained 82 scholarships, and achieved its highest ever pass rate in NCEA Level 3 following the 2017 examinations.
The 82 scholarships included 12 at Outstanding level (the top 1% in each subject), the pinnacle of academic achievement for secondary students. Scholarships were attained across 21 subjects, and were spread among 54 students.
School Location
Alberton Avenue, Mount Albert, Auckland 1025
Official website: https://www.mags.school.nz/