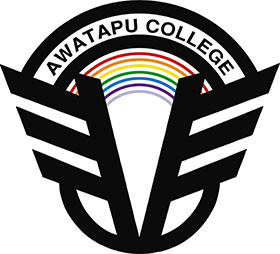 School Introduction
Awatapu College is a relatively new school, opening in 1976, and is in Palmerston North situated in the lower North Island of New Zealand, two hours by car from the capital city, Wellington. A modern co-educational secondary school, Awatapu College has a roll of approximately 650 students aged between 13-19 years. It is situated on an attractive tree lined campus with well-planned buildings and specialised facilities . Especially in the English Language (ESOL), Technology and Creative Arts areas. Intensive English classes and extensive academic support across the school are provided to all international students so that their learning needs are met. A wide selection of subjects is offered, ranging from Calculus to Fashion Design which ensures that every international student achieves their personal best.
Activities outside the classroom in culture, music and sport are also strongly encouraged among the international students. Two cultural highlights of the year are the Festival of Cultures in March, and the Festival of Arts in June. Awatapu College is privileged to have the top jazz singer in the country coordinating the school's performing arts programme. On the sporting front, the students have access to a great variety of sports catering to all levels of ability. The school prides itself in having world ranking athletes within the student body.
Awatapu College is recognised as one of the leading schools in New Zealand for international students who are superbly supported by the International Department, which offers total care and on-going support through a warm welcoming and supportive environment, carefully selected homestay families close to school, and regular communication with agents, support people and parents. In the past six years, the International Department has been recognised on three separate occasions by the New Zealand government for its outstanding programme and support to international students.
School Curriculum
Awatapu College is an educationally innovative school that values academic excellence. It offers students a comprehensive range of subject choices from Year 9 to Year 13 leading to NCEA Levels 1–3. It also has an academic monitoring programme that ensures individual students achieve to their academic potential. Awatapu College is recognised as one of the leading schools in New Zealand for International Students. Both short and long term students are accepted throughout the year.
Academic A wide range of NZQA approved academic and vocational subjects are offered. Support for International Students includes:
• Preparation for NCEA qualifications and University Entrance
• Intensive ESOL classes
• Subject support classes and in - class support with teacher aides
Culture, Music and Sport All International Students are encouraged to participate in the following sporting and cultural activities:
• Festival of Cultures
• International Languages Week
• Visual and Performing Arts events
• School concerts and performances
• Team and individual sports
• Mayoral reception
• Annual ski trips, camps and field
School Facilities
Awatapu College has spacious and attractive tree lined grounds with modern, well planned buildings.
Specialist facilities include:
Excellent library
Sports gymnasium
Performing Arts facilities
Technology suites for visual arts, textiles, food and material technology
Well-equipped science labs and computer rooms
Purpose built English Language (ESOL) Suite for language and academic support
School Location
434 Botanical Road, Palmerston North 4412, New Zealand
Website: https://www.awatapu.school.nz/