ACG Sunderland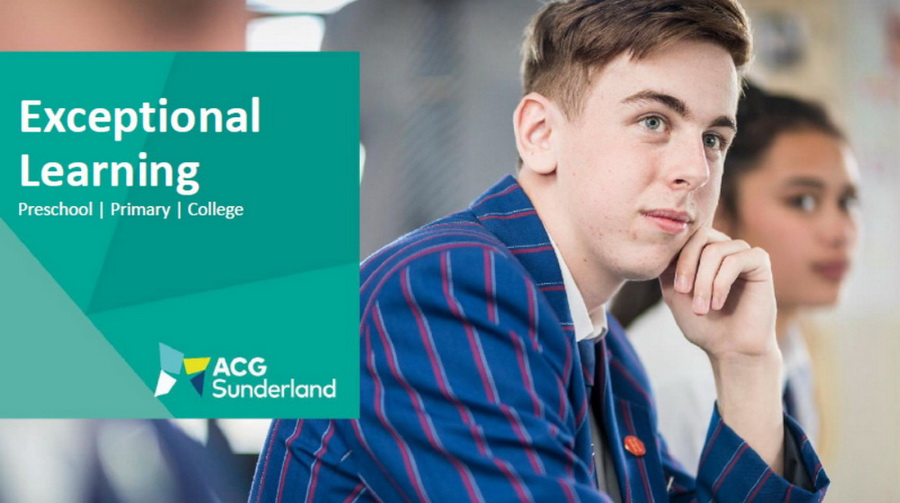 Exceptional learning, traditional values and individualised care make ACG Sunderland an outstanding choice for families seeking a world-class education from Preschool to Year 13. It prepares students for a lifetime of learning, equipping them with the academic, sporting and cultural skills they need to become balanced and independent global citizens.
Mission: to foster in each student a clarity of purpose to achieve their full potential.
Motto: Aspire, Succeed, Respect
Values: The Sunderland Way encompasses the six key values taught and lived at ACG Sunderland: Respect, Confidence, Enthusiasm, Loyalty, Service and Determination.
Philosophy: ACG Sunderland is passionate about delivering outstanding education underpinned by traditional values and standards. It provides exceptional learning and development opportunities in the classroom and beyond, and the strong pastoral care system ensures all students are supported and nurtured.
ACG Sunderland offers a world-class, holistic education to students from Preschool to Year 13. Passionate teachers, a nurturing environment and a child-centric approach instills a lifelong love of learning in each student. ACG Sunderland offers the Cambridge Pathway, the world's largest provider of international qualifications most popular pathway of international qualifications.
· Preschool School Curriculum: preschool equips students with the fundamental skills to thrive at Primary School, with a strong focus on language-based activities that provide formal and informal opportunities for thinking, problem solving and experimenting.
· Primary School Curriculum: the curriculum has clear learning objectives in English, Mathematics and Science, with progress throughout the Primary years being 'Internationally Benchmarked'. It culminates with Cambridge Primary Checkpoint Examinations at the end of Year 6.
· > Lower Primary (Years 0-3): at age five, children enter the Lower Primary. These years aim to develop students' talents and abilities in a caring, safe and stimulating classroom environment. Enquiry-based programmes are offered to excite young minds, creating a foundation for successful learning.
· > Upper Primary (Years 4-6): the focus of the Upper Primary is to develop independent and confident learners with skills to research and problem-solve.
· College Years Curriculum (Years 7-13)
· > Lower College (Years 7-10): a broad-based academic curriculum is offered in Years 7–10, alongside co-curricular activities to enhance skills.
· > Upper College (Years 11-13): ACG Sunderland offers the Cambridge Upper Secondary and Cambridge Advanced pathway in Years 11–13. In Year 11, students sit the IGCSE. In Year 12, most students will study at AS Level, but may also include IGCSE subjects. In Year 13, most students will complete the second year of the A-Level qualification in some subjects, but may also include other subjects at AS Level.
Located in scenic West Auckland: 6 Waipareira Avenue, Henderson, Auckland 0610, New Zealand Nestled amongst nine acres of beautifully landscaped grounds, ACG Sunderland offers an outstanding learning environment and the very best facilities.
Well-appointed, air conditioned, and in a quiet street just a short walk from Lincoln Road, its high-quality facilities are extensive, and include separate playgrounds for Preschool, Primary and College students.
· Sporting Facilities
ACG Sunderland's academic learning is strongly supported by extra-curricular activities, including an increasingly diverse range of sporting options. The purpose-built gymnasium – combined with the superb, local sporting facilities on the doorstep – means sporting opportunities are readily available to students. These include netball and playing fields at the school and access to a swimming complex, tennis courts and athletics tracks at the magnificent Trusts Stadium.
· Academic facilities
The school prepares students for tomorrow's world, embracing digital learning and the latest technology platforms as part of the educational programmes. The school runs a compulsory Bring Your Own Device programme throughout the College and an iPad programme in Primary. Primary and College students also benefit from leading-edge Science laboratories, a technology room, well-resourced music rooms and a 250-seat auditorium.
· 100%, PASS RATE CAMBRIDGE A LEVEL
· 50, ARTS, CULTURAL, LEADERSHIP AND SPORTING OPPORTUNITIES OUTSIDE THE CLASSROOM
· 400, EDUCATED IN A BOUTIQUE LEARNING ENVIRONMENT
6
Academic Achievements 2016:
· 98% pass rate in A2 with 40% of the results at A* or A
· 89% pass rate in IGCSE with 31% of the results at A* or A
· Secondary Checkpoint 94% pass rate with 33% at the top grade
· Primary Checkpoint 98% pass rate with 31% at the top grade.
· University Entrance rate is 89%
· Top of New Zealand in IGCSE English language - Emily Taylor
· Top of World AS Design Technology - Amelia Carlyle Rowe
ACG Sunderland:
6 Waipareira Avenue, Henderson, Auckland, New Zealand.