CAMPBELLS BAY SCHOOL
School Introduction
Since opening in 1925 this decile ten school has a student roll of between 850-900. The school caters for students between the ages of 5-11 who live within the school's enrolment zone. Campbells Bay School also provides a small number of places for international students. Set in park-like grounds the school has many purposeful-built facilities to provide for the needs of the students.
At the heart of the school are people, with the children being at the centre of the attention. Its aim is to grow learners for life. Learners for life are effective communicators, thinkers, self-managers, and citizens who strive for excellence. Its actions are designed to ensure the ambition of growing learners for life is a day to day reality for the students. In this context, the school's governing body, the Board of Trustees, provides for the overall direction of the school through policy setting and strategic planning and, in consultation with the senior leadership of the school, sets achievement targets. Its current priorities are outlined from the Board of Trustees.
Its values are respect, resilience and kindness and it is currently implementing a new launch through professional development from Positive Behaviour For Learning to emulate these values in all that they do.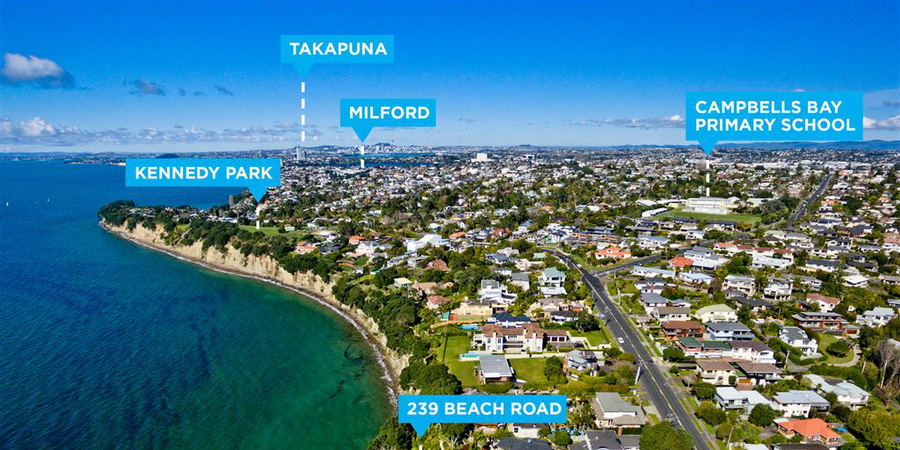 School Curriculum
The Campbells Bay Curriculum outlines the rationale and structure for instruction in the seven key learning areas: English, Mathematics, Health and Physical Education, The Arts, Science, Social Sciences and Technology.
• The curriculum supports and empowers all students to learn and achieve personal excellence, regardless of their individual circumstances
• The curriculum acknowledges the Treaty of Waitangi and the bicultural foundations of Aotearoa New Zealand. All students have the opportunity to acquire knowledge of te reo Maori me ona tikanga.
• The curriculum reflects New Zealand's cultural diversity and values the histories and traditions of all its people.
• The curriculum is non sexist, non-racist and non-discriminatory; it ensures that students' identities, languages, abilities, and talents are recognised and affirmed and that their learning needs are addressed.
• The curriculum encourages all students to reflect on their own learning processes and to learn how to learn.
• The curriculum has meaning for students, connects with their wider lives, and engages the support of their families, whanau, and communities.
• The curriculum offers all students a broad education that makes links within and across learning areas, provides for coherent traditions, and opens up pathways to further learning.
• The curriculum encourages students to look to the future by exploring such significant future-focused issues such as sustainability, citizenship, enterprise and globalisation.
School Locations
77 Aberdeen Road, Castor Bay, Auckland 0620, New Zealand
Campbells Bay School is a decile-10 school, in a high socio-economic area, located in a beautiful setting overlooking the Hauraki Gulf and Rangitoto Island.
Auckland's North Shore City is a short ferry ride from Downtown Auckland, or can be reached by the short trip over the Harbour Bridge. Beautiful beaches, lush native bush and spectacular views of the Gulf make the North Shore an excellent place for parents to live and for kids to grow up and learn.
The area has plenty going on, lively cafes and restaurants, sports clubs and leisure centres and a thriving local arts scene.
North Shore City is an hour away from the Auckland International Airport, or a seven minute drive from the Auckland CBD.
School Facilities
Indoor Facilities include Classrooms, Art Room, Learning-hub Library, Performing Arts Suite, Hall and Gymnasium.
Outdoor Facilities include Hard Courts, Play Structures, Playing Fields, Community Forest, Sandpit, Swimming Pool, Waterwise Programme.
Student Health and Medical Facilities include Medical Room and Lunchroom.
Additionally, there are also Travel and Safety Facilities, such as Bike/Scooter Shed, Onsite Car Parking, Bus Bay, etc.
Official website: http://campbellsbay.school.nz/