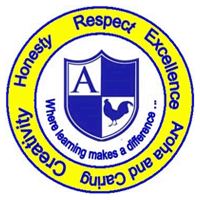 Albany Primary School

School Introduction
It is a school with a rich history and an exciting future. It prides ourselves on the happy, friendly and safe environment that is evident from the moment you enter their grounds. Learning is not silent at the school but shouts with curiosity and challenge.
Its goal is to ensure that your child is given every opportunity possible to develop and grow through our inclusive and holistic curriculum.
The school's vision "where learning makes a difference" is the foundation for all they do. The values of respect, excellence, aroha and caring, creativity, and honesty (REACH) are modelled and reinforced by the teachers as essential qualities that they all strive for in their learning community.
School Curriculum
Albany School recognises that the enrolment of students from different cultures brings a richness and diversity to the School and the education they offer.
They aim to:
· promote an exciting and dynamic teaching environment,
· prepare students for the internationally integrated world, and to
· develop an international perspective for all of the students.
All international students are encouraged to participate in ELL lessons matched to their needs. The School currently has a special room dedicated to the international students, staffed by a specialist Teacher who works with groups of 6 to 8 children. In addition, children are well supported in their learning by their Class Teachers and Teacher Aides. Their classes are small and progress can be rapid.
To ensure that international students gain the most from their New Zealand education and experience the school provides a buddy and peer support system within the School. Wherever possible, international students are introduced to other children within the class or School who speak their language, thus ensuring the international students always have a friend for support in the classroom or out in the playground, should they have worries or difficulties.
Sport at Albany Primary School
Albany Primary School acknowledges the importance of children having an active, balanced lifestyle. Sport is a key area of focus for our school and we enjoy significant participation rates from students in organised out of school sports.
The school's aim is to encourage fair play and sportsmanship, whilst providing the opportunity for children to develop social, communication, teamwork and a range of sport specific skills in a friendly, fun environment.
Albany Primary School offers out of school sports and in-school sports opportunities to interested students. Throughout the school also offers family fun sporting events; Shore to Shore fun run/walk, kids marathon, mud-rush, etc.
School Locations
6 Bass Road, Albany, North Shore City, Auckland 0632
Official website: http://www.albany.school.nz/