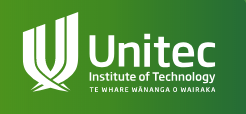 Unitec Institute of Technology

SCHOOL INTRODUCTION
Unitec Institute of Technology, founded in 1976, is New Zealand's largest Institute of Technology, located in the heart of Auckland, one of the world's most liveable cities. Unitec staff come from a diverse range of backgrounds and are passionate about the power of education to change lives. Graduates of Unitec work in a range of fields, adding immense value to industries and communities. Unitec helps them develop the skills, hands-on experience and industry connections they need to hit the ground running. Unitec has two campuses spread across Auckland, in Mt Albert, and Henderson, and both of them are 100% smoke-free and they constantly buzz with students of all ages, nationalities and backgrounds. Unitec offers more than 150 work-orientated programmes to students from over 80 countries.
SCHOOL FEATURES
Unitec offers a friendly and diverse learning environment with flexible study programmes, lots of support, and hands-on experience to build the skills students need for their career and their future.
Unitec is a leader in adopting modern teaching and training approaches to prepare students for success in the jobs of the future.
It offers employment-focused education, from certificates through to doctorates, across a wide range of professional and vocational areas.
It partners with major business and service organisations, with many co-located on Auckland campuses, to align vocational learning closely to industry needs.
Moodle is students' key e-learning platform, used by lecturers and students to connect and work together on a wide range of online teaching and learning activities.
Friendly, professional librarians will help students find the information they need, and they'll be able to borrow items simply by using their student ID card. 
COURSE INTRODUCTION
Unitec offers more than 150 work-orientated programmes to students from over 80 countries. It can help students progress from beginner to advanced-level programmes, all the way from certificate-level to their postgraduate degree. Unitec can also help students 'upgrade' their qualifications over time.
Certificate courses:
Liaison Interpreting, University Preparation (Level 4), Animal Care (Companion Animal), Animal Management (Canine Behaviour and Training), Animal Management (Companion Animals), Animal Technology (Veterinary Nursing Assistant)
Automotive Electrical Engineering, Automotive Engineering, Electrical Engineering (Level 3), English Language (Academic) (Level 4), English Language (Academic) (Level 5), English Language (Applied) (Level 3), English Language (General) (Level 3), Information Technology (Essentials), Language Teaching, Real Estate (Salesperson), Study and Career Preparation (Level 3), Study and Career Preparation (Level 4)-Art and Design, Study and Career Preparation (Level 4)-Business and Communication
Diploma courses:
Applied Interior Design, Architectural Technology, Business-Accounting, Business-Leadership and Management, Construction, Engineering (Civil), Engineering (Electrical), Engineering (Electronic), Information Systems (Level 5), Landscape (Design), Surveying, Veterinary Nursing
Undergraduate courses:
Bachelor
Applied Science (Animal Management and Welfare), Applied Science (Biodiversity Management), Applied Technology-Automotive Engineering, Applied Technology-Transport Management, Architectural Studies, Business (Accountancy)
Business (Finance), Business (Management), Business (Marketing), Computing Systems, Construction (Construction Economics), Construction (Construction Management), Construction (Property Development), Creative Enterprise, Engineering Technology (Civil), Engineering Technology (Electrical), Health Science (Medical Imaging), Landscape Architecture, Nursing, Performing and Screen Arts (Acting for Screen and Theatre), Performing and Screen Arts (Contemporary Dance), Performing and Screen Arts (Production Design and Management), Performing and Screen Arts (Screen Arts), Social Practice, Teaching (Early Childhood Education), Veterinary Nursing
Graduate Certificate
Professional Accountancy
Graduate Diploma
Business (Human Resource Management), Business (Marketing), Business (Operations Management), Computing, Construction Project Management, Higher Education, Professional Accountancy
Postgraduate courses:
Master
Applied Practice (Professional Accounting), Architecture, Architecture (Professional), Business, Computing, Creative Practice, Landscape Architecture, Osteopathy
Postgraduate Diploma
Business, Computing, Creative Practice
ADDRESS
Mt Albert campus Carrington Road, Mt Albert, Auckland, New Zealand
Waitākere campus Ratanui Street, Henderson, Auckland, New Zealand